BIOGRAPHY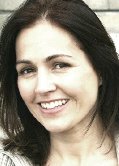 Angela Heath-Larsen is a professional British actress, who lives in Denmark. She trained in acting and musical theatre at Mountview Theatre School, London, graduating in 1992.
In 2009 she made her Danish prime-time television debut, playing the ministerial secretary Alice Foster alongside Diana Quick in  the Emmy®-winning series Livvagterne (The Protectors), directed by Mikkel Serup. The series has been screened in Europe and Australia.
In 2011 she was Vita Sackville-West in the highly acclaimed Vita and Virginia at CafeTeatret, Copenhagen. The production played to packed houses and attracted rave reviews from the Danish national newspapers Information and Weekendavisen.
In 2012 she lent her voice to a character in the Oscar-nominated film A Royal Affair, directed by Nicolaj Arcel, as well as performing in two theatrical productions in Copenhagen.
Prior to her move to Denmark she toured major UK theatres, including the Theatre Royal, Windsor and the Theatre Royal, Nottingham, appearing with the late Geoffrey Hughes in Bare Necessities, directed by Rob Bettinson (Buddy). London work includes the lead role Vittoria in Ursa Major Theatre Company's production of The White Devil at the Southwark Playhouse, Varya in The Cherry Orchard and Calypso in the late Kenneth McClellan's production of Ulysses at the Riverside Studios, Hammersmith.
Angela holds an MSc in Information Technology and a BSc in Sociology. She lives in Copenhagen with her husband and their two children.
TV & Film
| Title | Producer | Role | Director | Year |
| --- | --- | --- | --- | --- |
| A Royal Affair | Zentropa | Courtier (voice) | Nikolaj Arcel | 2012 |
| Vogn 347 | Zentropa | Man's mother | Silje Nikoline Glimsdal | 2011 |
| The Protectors (series 1) | DR Drama | Alice Foster | Mikkel Serup | 2009 |
| Dejlig er Jorden | Bo Dalum | Mother | Bo Dalum | 2009 |
| Newsgate | CCI International | Susanne | Torben Juul | 2003 |
Theatre
| Play | Theatre | Role | Director | Year |
| --- | --- | --- | --- | --- |
| Old Times | Krudttønden | Kate | Barry McKenna | 2012 |
| Desdemona | Bådteatret | Bianca | Barry McKenna | 2012 |
| Vita and Virginia | CafeTeatret | Vita | Barry McKenna | 2011 |
| A Christmas Carol | Nørrebro | Mrs Cratchit | Barry McKenna | 2010 |
| The Seagull | Stantonbury, UK | Nina | John Fabian | 1998 |
| William and Catherine | Jasperian Theatre Company | Evangeline | Clare Davidson | 1996 |
| Bare Necessities | E&B Productions | Carola | Rob Bettinson | 1995 |
| Max and the Missing Melody Mystery | Wilde Theatre, Bracknell | Melody | Paul Chamberlain | 1994 |
| The Strike of 1889 | Emery Theatre, London | Mary Lamb | Seamus Newham | 1994 |
| The White Devil | Southwark Playhouse | Vittoria | John Longenbaugh | 1994 |
| Oedipus the King | DOC Theatre, London | Chorus | Justin Joseph | 1994 |
| Ulysses | Riverside Studios, London | Calypso | Kenneth McClellan | 1994 |
| The Cherry Orchard | DOC Theatre, London | Varya | Justin Joseph | 1994 |
| The Glass Slipper | Channel Theatre Company | Cinderella | Philip Dart | 1993 |
| Teechers | Pukka Theatre Company | Gail | Christopher Rees | 1992 |